Enrollment Holds
"Yikes! I can't enroll in classes! I got an email about an enrollment hold! Should I be concerned?"
Yes, you should be concerned, but don't panic! An "enrollment hold" will stand in the way of your enrolling in classes, so it's something to take seriously. It usually means there is some action you are required to take that's important enough that an office uses a hold to ensure you get it done, such as paying a balance or declaring your major. Offices that place holds normally contact you via email in advance of placing the hold, so you have time to resolve it before it affects your enrollment. Because holds can have downstream consequences (like affecting financial aid or visa status, since a hold might stand in the way of enrolling full-time before a deadline) it's important to follow up on them sooner rather than later.
To identify what kind of hold you have:
Go to

MyUCSC

and click on "Holds"

 and then "Details"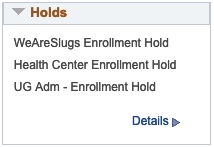 Click on the hold item, and it will tell you:



Which office placed the hold

How you can remove it

Who to contact if you have questions
To learn more about specific holds and how to resolve them, use the links below: